The Arbor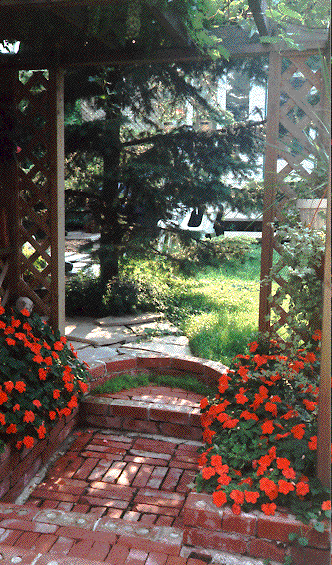 ---
This is the south-eastern most corner of the garden. The small orange flowers are impatiens. In Canada, they are annuals. I plant them in mid-May; the growth you see there is after two months (mid-August). The moss on the step is Irish moss. The tree is a common spruce. On top of the arbor is a ten year old grape. In September, the grape bunches are very showy, and the grapes themselves are sweet tasting, but full of pits. (Didn't realize I was planting wine grapes at the time). Through the arbor you can see a group of flag stones which are common about an hour north of this area on the Bruce Peninsula (the separating land body between Lake Huron and Georgian Bay). The area around the tree simulates typical forest vegetation on the Peninsula--lots of cedar trees. In the far distance you can see the white house.

The bricks under the arbor are a good story. In Waterloo (the city of the garden) the oldest Seagram's distillery was recently torn down. The pile of rubble spanned two city blocks, and over the course of a year or so, I bought about 2000 bricks used from the wrecking company for twenty-five cents a piece (new bricks are about two dollars each). I got them for so little because they were uncleaned. For a month, I spent three hours a day chipping the mortar off them and knocking the old mortar out of the three holes in each brick. My neighbours, seeing me on the driveway with a hammer an stone chisel thought I was insane. I think I probably was. The old mortar alone filled six wheel-barrows. I'm sure I mixed over 200 wheel-barrows of cement for the foundation of this and other brick work in the garden.
---
Walk to the fence and pumpkin patch...