Lillies in the Shade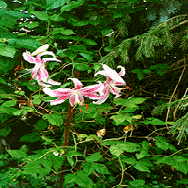 ---
As you walk through the moss you enter the shadiest area of the garden, and also one of the back entrance points. I try to keep something of interest in view in this little corner. In July, it's these lillies, which are tucked in with some wild raspberries. Last year was their first year, and I'm eager to see if they'll multiply over the next few years.
---
And once again, you've come to the new end of the tour. Thanks for dropping by; I hope you enjoyed the new areas of the tour. Before you leave, you can fill in my garden questionnaire if you like.
You may also return to the index of all the stages in the tour.