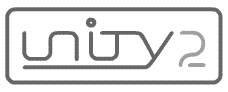 UClient for Macromedia Flash: Release Notes
Welcome to UClient for Macromedia Flash. This document contains version information, change history, and late breaking information for UClient for Macromedia Flash. Note that these release notes do not apply to Unity 2 Multiuser Server. Server release notes can be accessed online or in the /docs/ directory of your Unity 2 Multiuser server installation.

Change History
Version 2.0.1

Policy file support added. Movies running in Flash Player 7.0.19.0 or later can now load a policy file that allows cross-domain and connections to ports under 1024. For details, see UClient.setServer() documentation.
Fixed bug preventing UClient from exporting to Flash Player 7 format.
New uSimpleChat example files, using Flash MX 2004 "v2" component set.
Minor improvements to uAdmin:

Stopped outdated client information from appearing
Fixed tab ordering on login screen
Added enter key support to login screen

Various documentation updates.

Version 2.0.0

Known Issues
None.